About
The Sultanate of Oman is an Arab country on the southeastern coast of the Arabian Peninsula. It is a country of breathtaking natural beauty, history and adventures.
The rich history and culture of Oman dates back well over 5.000 years. The country is still very authentic, because its ancient culture has been so beautifully preserved.
The Omani people are very hospitable, kind and they welcome tourists of all places into their country with much pride. Oman is in the top 10 of the worlds safest tourist destinations.
The country offers beaches, mountains, deserts, historical sites, nature and both beautiful hotels. Yet, it is still unspoiled. Unfortunately we have only been able to see Muscat, one of the wadi's and the Hajar mountains. But there is much more to see and do.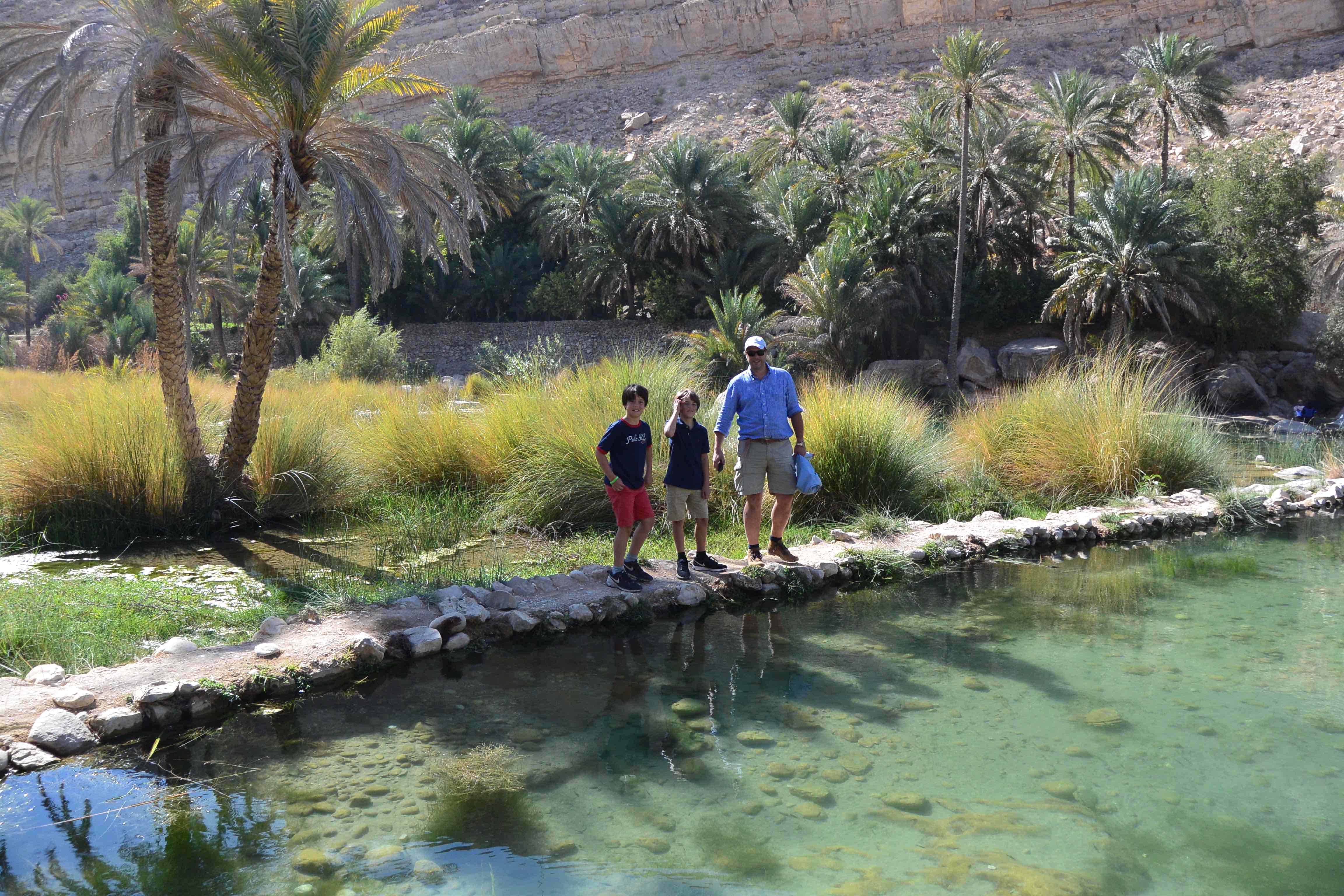 Tips
Even though both the UAE and the Sultanate of Oman are both very tolerant countries and welcome visitors, please dress appropriately when visiting mosques, restaurants, on the beach and when swimming in wadi's.
There are restaurants outside the resorts in both countries, but they do not serve any alcohol. Only hotels and resorts are able to get an alcohol license. That's the reason why most good restaurants can be found in the hotels.
Bring (hamman) towels with you when traveling to Oman. When stopping at the wadi's you'll have something to dry yourself, as most of the wadi's are in the middle of nowhere and only supply basic necessities.
Arrange all the necessary papers with your car rental agency if you want to take your rental car from the UAE to Oman and back. If you don't have the permission papers they will not let you cross the Omani border.
Be sure to get gasoline in time. Distances are long and gasoline stations are not readily available everywhere.
Rent a 4x4 or you will not be able to enter the Al Hajar mountain range and go to the Alila Al Hajar hotel or any other hotel for that matter. The authorities will not let you enter without a 4x4.
Try not to drive long distances at night. The park authorities will not let you enter the Al Hajar mountain range when the sun has set.
When to go
Avoid the summer months. It gets extremely hot.
Best time to visit is October – April. We were there around Christmas & NY. A perfect escape from the cold Northern winters.
itinerary
We rented a car in Dubai to drive around in the UAE and Oman. Both countries have excellent roads with good signage. The only thing we experienced is that the GPS is not working at all. So be aware and take a roadmap with you or print out your route on Google maps.
Something else you have to be keen on is getting the necessary papers from the rental agency to take the car out of UAE and entering Oman. Not all borders are open for rental cars and tourists. At the time we made this trip we were sent away at one border even though we had all the necessary papers. Later we learned that the only possibility to cross the border with a rental car was the Hatta border. So check it out before you plan your route! It saves you a lot of time not having to drive from one border to another border crossing.
Take care when driving because when causing, or getting in, an accident, things can get ugly.
Dubai International Airport to Ras Al Khaimah is 45 minutes.
Ras Al Khaimah to Muscat is about 5 hours.
Muscat to Wadi Bani Khalid will take you 3 hours.
Wadi Bani Khalid to Al Jabar Al Akhdar about 2 hours.
Al Jabar Al Akhdar to Abu Dhabi 5 hours.
Abu Dhabi to Dubai 1 hour.
Of course you can always make more stops on your round trip. Some stops we weren't able to make but we wanted to make were if we'd had more time are:
1. See the turtles at Raz Al Jinz Turtle reserve near Sur. When we were visiting it was not turtle season in Oman. The best time to go turtle watching is July-October as approximately 20.000 turtles or more lay thousands of eggs on the beach.
2. Deserts nights camp near Al Wasil on the road from Wadi Bani Khalid to Al Jabal Al Akhdar, check their website at Deserts Nights Camp. Unfortunately they were full when we booked our trip.